VCM 750, double chamber vacuum packing machine, floor-standing with rolling casters, is made of stainless steel. Highly durable cast-iron alloy lid, where sealing mechanism mounted, and stainless steel housing and flat working plate shows its sturdy structure. It has standard double sealing bar for packaging several products at the same time on each chamber. VCM 750 has easily removable silicon holders for cleaning working plate.
Digital control panel helps to adjust the amount of vacuum or gas and vacuum time. The programing of the machine are easy to run and can be set as default sequence for quicker and continuous operation. Not only hassle-free vacuuming without damaging the product, without a drip loss or an air-bubble formation but also tighter packaging and better presentation can be easily achieved.
VCM 750 double chamber vacuum packaging machine has number of international certificate of conformity.
The low maintenance, hygienic constructions and reliability in operation and low maintenance costs.
Gas flushing unit and pressured sealing are machine standard. The gas delivery system fitted as standard with VCM750 vacuum machine without crushing your product, without breaking, removing the water, you can vacuum without bringing puree. The gas system can turn off if not neccesseary.
USAGE OF VCM750
CENTRAL KITCHEN
CATERING
MILK PRODUCT
DELICATESSEN
PROCESSED FOOD
FRESHCUT
FROZEN
MEAT
DRIEDFOOD
SEAFOOD
MEDICAL
MILITARY LOGISTICS
VCM750 fits in a small places. It can be easily move and never needs readjustment.
VCM750 has a very useful digital control panel. You can control every function of vacuum processing.
VCM750 has got international attestation of compliance certificates.
VCM750 Sealing Unit is easily remove and clean. Chambers makes process separately.
VCM750 consumes less energy as compared to other.
VCM750 is very effective solution medium or high level productions.
APACK supports deliver high quality vacuum pouches.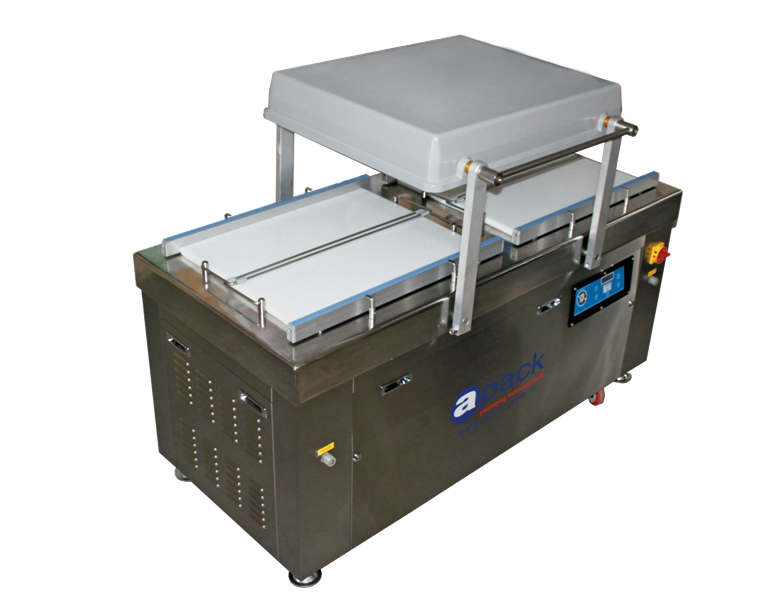 What is Vacuum?
As inner air is deflated, the decomposition by microorganism, rust on the metal parts can be prevented. But when it comes to the food, we sterilize it at 80℃ after packing because there might be some limit in inner vacuum degree. As packing size is the smallest one, it is convenient for transportation, storage and sterilization by heating. Vacuum state can be made when the air in the container, which resists average air pressure 760mmHg on the ground, is deflated by inhalation pump. In case the container cannot resist average air pressure, it will be shrunk when the air is deflated. (Vinyl vacuum packing for food) Vacuum state (almost no air state) can be made if the air is deflated in a completely tight condition with plastic syringe, after closing the entrance.
VCM-750 Double Chamber Vacuum Machine Technical Details
POWER
220 / 380 VAC 3PH, 60Hz.
POWER CONSUMPTION
Max. 7kW
VACUUM PUMP
120 m³/h
VACUUM CHAMBER DIMENSIONS
780 x 720 x 180mm.
SEALING BAR
4 x 750 x 10 mm.
CONTROL PANEL
Digital Control Unit with Vacuum Level Indicator
GAS INPUT
Include (N2,CO2,O2)
OOPTIONAL
Filter and Liquid Plate
BODY FRAME
AISI304 Steinless Steel
WEIGHT
350 Kg.