The semiautomatic tray sealing machine TableTOP20 is an electrically heated, motor drive tray sealing and cutting machine, is used to seal trays with various type packaging films.
TableTOP20 series machines are semiautomatic type tray sealer which has compact design, build with stainless steel to meet the market that wants healthy, tasteful and convenient packaged in a hygienic, high-quality way. The machine have skillful craftsmanship at a great value for money, which are suitable for testing market demands, low level production, fast packaging requirements, supermarkets, small kitchens and shops. This kind of machines are the very first step through fully automation.
TableTOP20
Certified World Industrial Standards
Changable sealing plate
Seal and cut function at one step
Isolated sealing plate
Digital Temperature Control Unit
Digital Sealing Timer
Hygenic and compact design
Motor drive sealing
PLC Controlled
Motion Controlled Film Reel
TableTOP20 series semiautomatic type tray sealing machines is applicable to fresh-keeping packaging of all types of boxed nutrition as fresh, cooked food, such as cool fresh meat, cooked meat products, rice, noodle, cheese, soy products, fast food, food-to-go, which can be hot, chilled or frozeen, pastry, aquatic products, dried food, poultry and other boxed foods or any kind of boxed material. It is perfect for following take-out sales. Take-away, casual dinning, meals-on-wheels, street food and cooked & chill.
TableTOP20 series sealing machines allows you easy and fast replacement of tray tools.
TableTOP20 series sealing machines allows you friendly and simple in operation for user. Machine needs only one operator.
TableTOP20 has an tool change option. You may use different kind of toolset for your different products.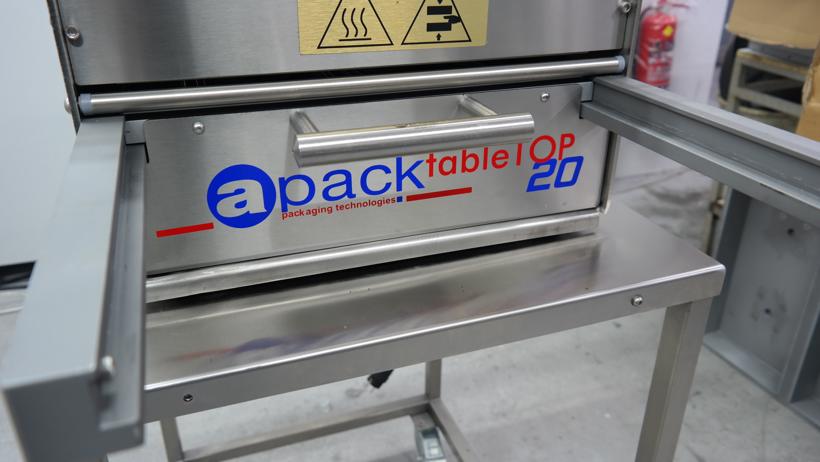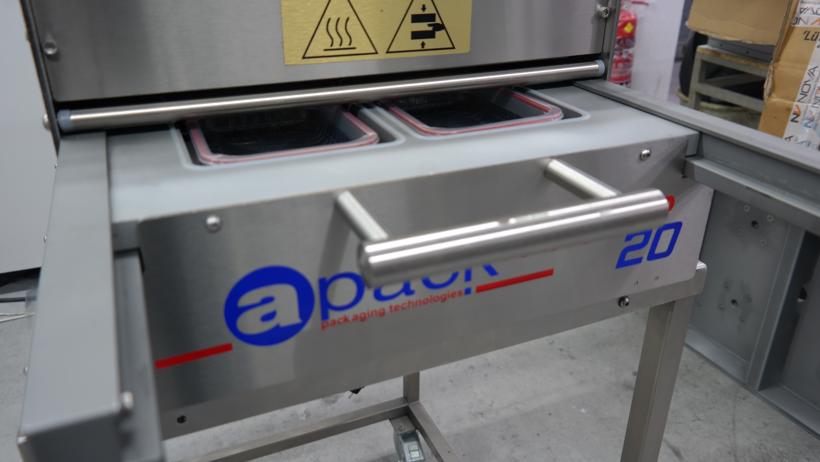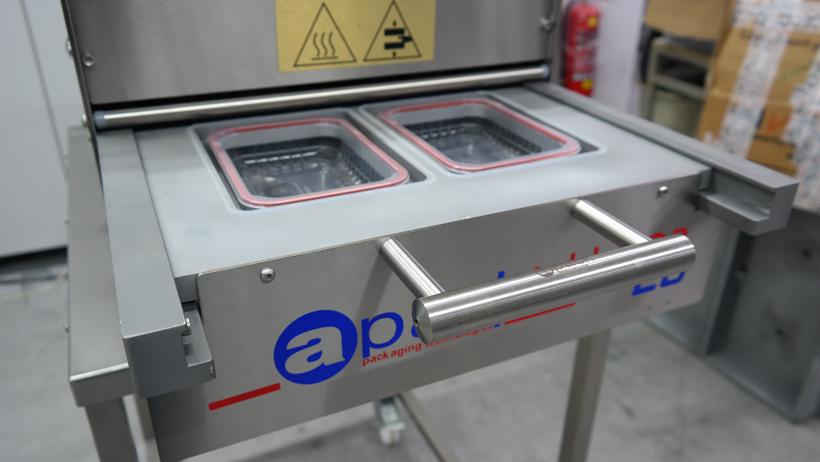 TableTOP20 Semi-Automatic Tray Sealing Machine allows the use of single or multi-compartment trays at different depths from 10 mm to 100 mm. Only one staff is sufficient for its use.
To ensure ease of use, a stainless steel work table is prepared for machine dimensions.
TableTOP20 tray termosealing unit works with asynchronous electric motor and has the ability to make faster, better quality and more powerful seal on other desktop machines. The sealing process is programmed to be carried out automatically by the touchscreen controlled PLC unit.
TableTOP20 series sealing machines has sealing duration PLC control system. In this way, the quality of the termosealing you have access to fully automatic machines. By means of touch-screen panel, every step of the packaging process can be controlled easily. The automation unit with PLC control circuits, monitors and controls processing line provides immediate alerts on possible faults, misuse, and equipment malfunctions, thus protects the systems.
TableTop20 has got its own automatic film drive control unit. The printed film can use with this machine.
Stainless-steel body and hygienically designed conveyor belts and moving parts allow for cleaning and maintenance without any hassle. It also suitable for using single and multiple trays.
APACK can customize TableTOP20 machines and tray tool dimension which is suitable for your production.
USAGE of TableTOP20
READY TO EAT (Daily Consuming)
TAKE AWAY (Hot or Cold)
MARKETING (Making DEMO or Market Test)
FAST FOOD (Daily Consuming)
CATERING
tableTOP20 Technical Features
POWER
1/N/PE 200-220 V 50-60 HZ
POWER CONSUMPTION
Max 2.0 kW
CAPASITY
2-6 cyclye/min
CONTROL PANELS
Omron Touch Screen PLC Control Unit
DIMENSIONS
490(W)x900(L)x800(H) mm.
FILM WIDHT
Max 380mm.
FILM REEL DIAMETER
76mm.
WEIGHT
45 Kg.
SEAL/CUT
Sealing and Cutting