Human Resources
Like to Join Us?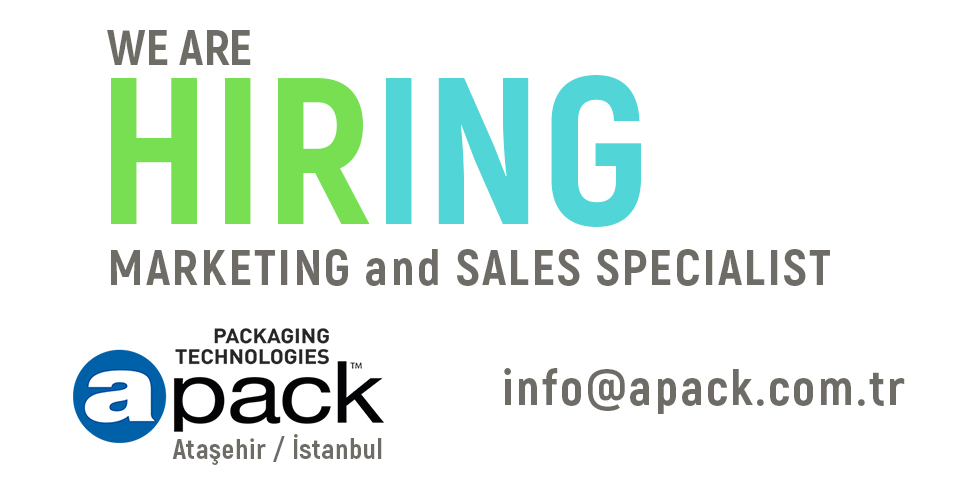 APACK staff work with a common goal to develop, manufacture and market innovative, high-quality packaging equipment for the food industry worldwide.
We are continuously looking for new employees, who would like to contribute to strengthening and developing our business.
If you have thinking without borders, if you have creativity and a confident approach to the set goals join us. We offer exciting jobs and career opportunities in a company with a flat organizational structure and an open, friendly and informal work environment.
You are most welcome to send us an unsolicited application and resume (CV).
Currently we are interested in;
Area Sales Manager
Can you sell advanced processing technology to the packaging industry ?
• You work in a packaging company today or you have sales experience from a company within the packaging industry
• You know how to identify customer needs
• You value building good customer relationship
• You have experience with international sales
• You can handle several projects at the same time
• You are self managed and good in planning
• You are a team player
• You speak and write fluently English and minimum a third language
We are looking forward to hearing from you if your personal profile is in line with this description.
If you have an idea about packaging, just join us.
APACK possible positions:
OFFICE (FRONT DESK / SECRETARY / FINANCE / LOGISTIC)
PRODUCTION (ELECTRIC / ELECTRONIC / LATHE / CNC OPERATION / MONTAGE / SOFTWARE / 3D CREATION / ENGINEERING)
SALES & MARKETING
AFTER SALE SUPPORT
PROCUREMENT
OFFICE HANDLING (SECURITY / KITCHEN / MAINTENANCE )
ACTIVE HIRING - OVERSEAS MARKETING AND SALES SPECIALIST / ISTANBUL-TURKEY
* Full time
* To be employed in overseas marketing and sales services
* Preferably with at least five years of experience in the field of industry and machinery
* Can travel to anywhere in anytime
* Able to speak and write fluent English (additional languages are preferred)
* Good at MS Office and computer using
* Active driver with licence
* Those who like teamwork, have strong human relations, advanced communication and persuasion skills, strong representation and coordination skills, and have the ability to work systematically and analytically.

We are looking for Marketing and Sales Specialist
info@apack.com.tr