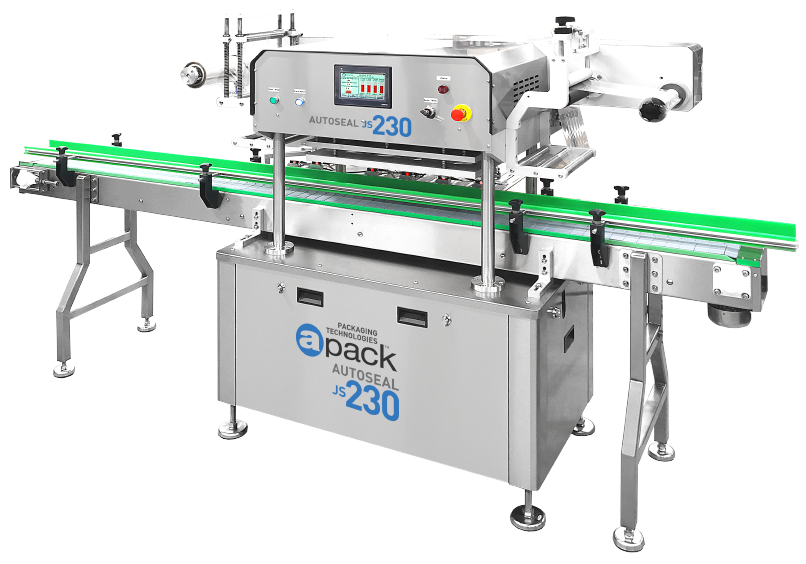 autoSEAL JS230 is a PET / PE jar-bottle sealing model from our fully automatic lines, available for different mouth diameters, designed in line with automatic line requirements in small production areas.
Ultrasonic welding systems are known to have some disadvantages in food packaging. For this reason, we have developed our autoSEAL JS230 model to apply the tray sealing method we make in food packaging to plastic jars. None of the materials used in this method interact with the product. It can be used easily and safely for all kinds of your acidic and basic products (pickles, olives etc.). The sealing film does not rupture or spill into the product when opening the jar.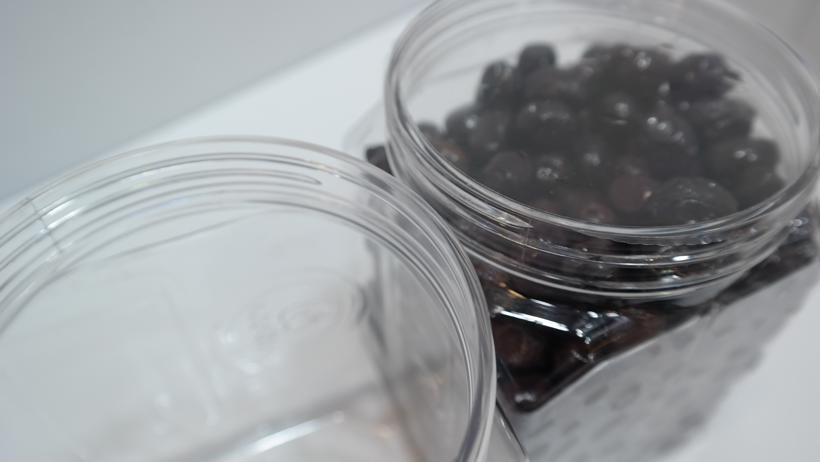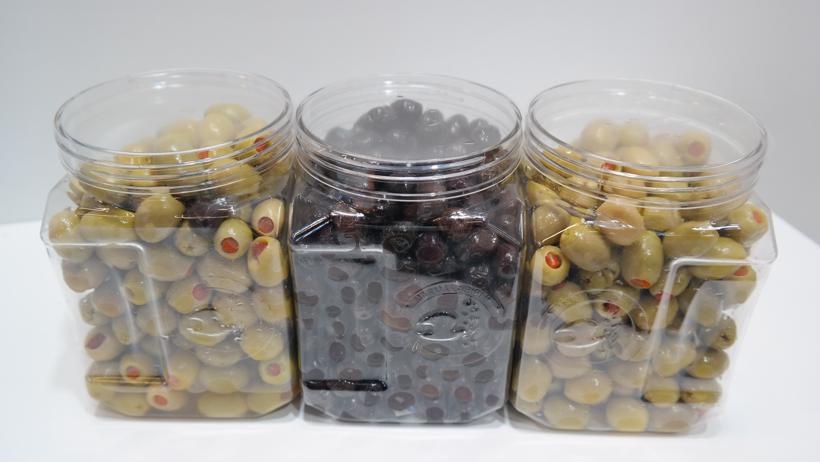 The autoSEAL JS230 series is a production line that can meet your need to seal PET / PE jars in any size within fully automatic systems. Production lines start with the arrangement of empty jars in conveyors, and covers all stages such as product filling, weighing, sorting, sealing, closure, labeling, collection and stacking some parts of the line (such as jar stringing - product filling - lid closing) can be operated manually.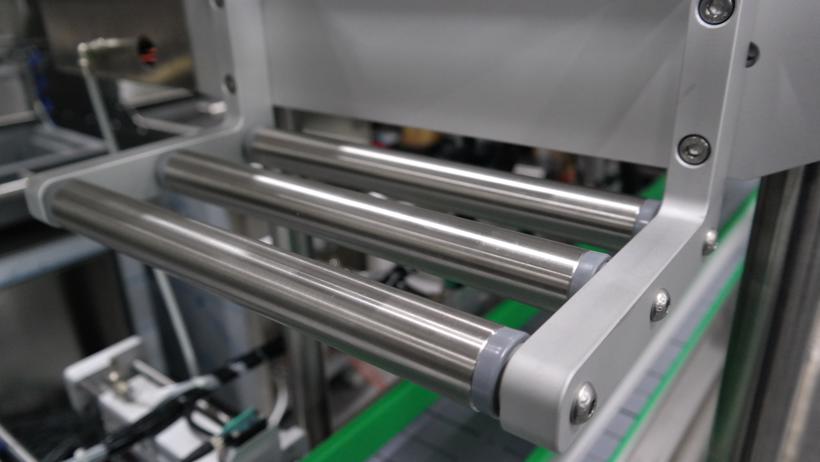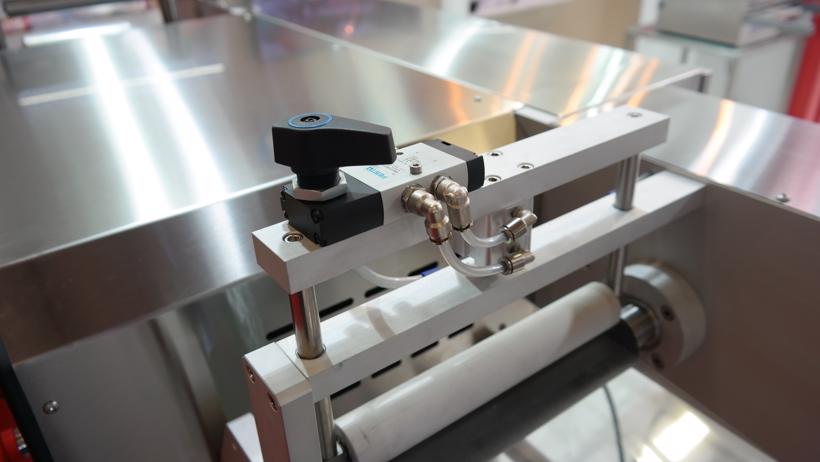 The body of our machines is completely made of AISI304 stainless steel. Moving belts and moving elements are made of hygienic material. Machine is easy to use, maintain, clean. Jars of any width and length can be sealed.
The production lines prepared with our autoSEAL JS230 series machines are completely designed according to the customer's requirements. Location, size of your production area; we produce completely customized solutions according to your other production machines.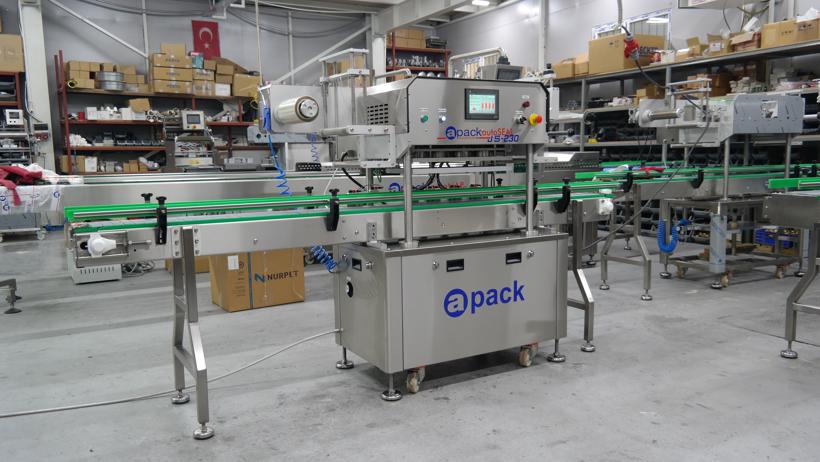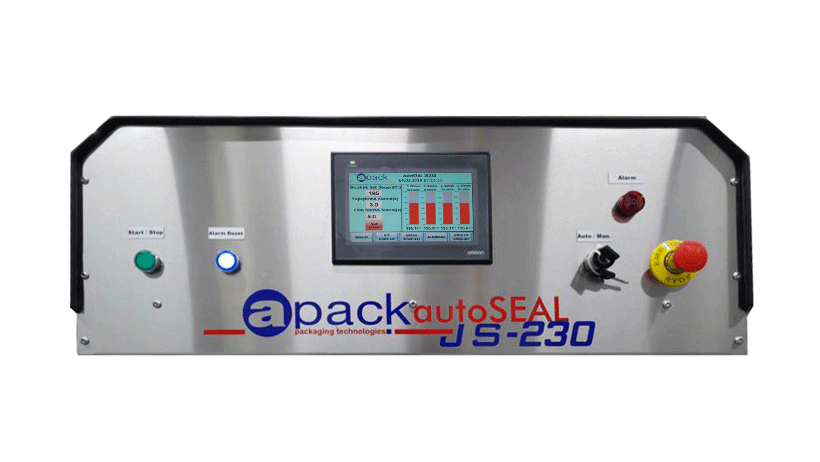 The touch screen control panel of the autoSEAL JS230 allows you to control every step of the packaging process. With control circuits, all stages of production and possible error messages are displayed on touch screen. The process can be adjusted to all kinds of plates and films. The automation unit, which monitors and supervises every kind of production line, immediately warns and protects the system in case of possible errors, misuse and installation failures.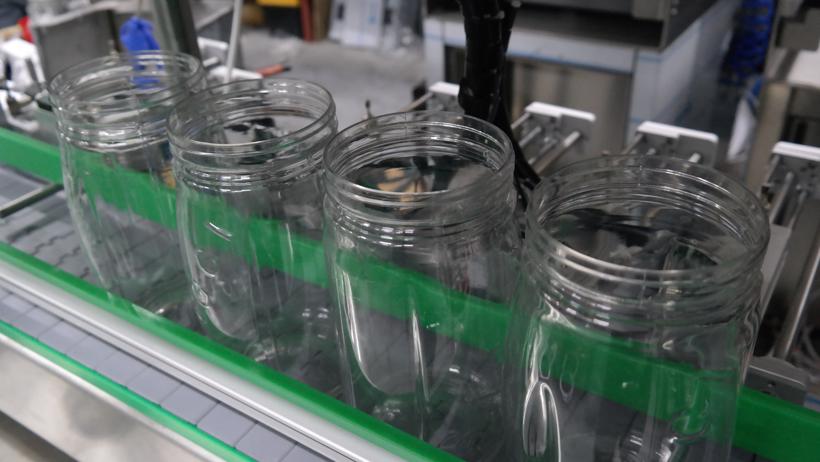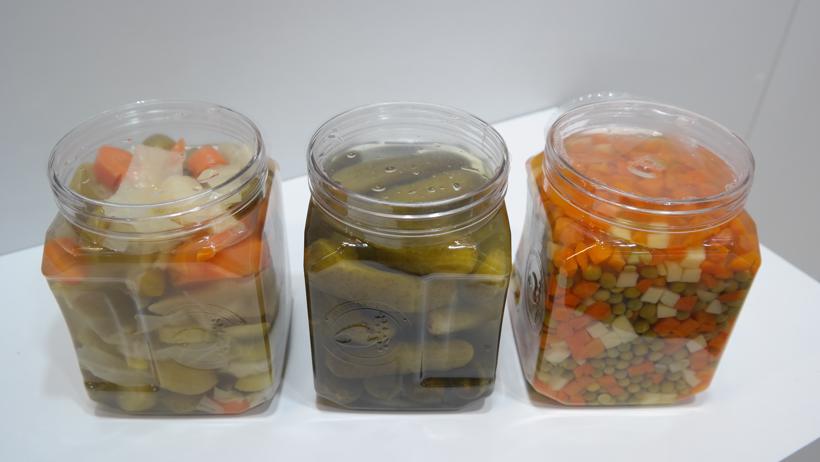 The molds we use in autoSEAL JS230 are manufactured from aluminum and coated with Anodized finish; welding plates are Teflon coated. The product is insulated from the heater plate. The bottom welding plate is a whole with top mold, blades, heaters and PT100.
With the right technical information, APACK will be happy to guide you to the suitable PET / PE jar and upper film selection for your food.
Our autoSEAL JS230 series machines are designed according to the working conditions in our country and are manufactured by APACK. Our autoSEAL JS230 series machines are designed for long-term continuous production.
autoSEAL JS230 series has been designed for long uninterrupted productions, and is offered with service and separe parts with our APACK warranty both our national and international customers.
Our autoSEAL JS230 series machines have international certificates of conformity. We are certified for ISO22000 Food Production and ISO13485 Medical Equipment Production.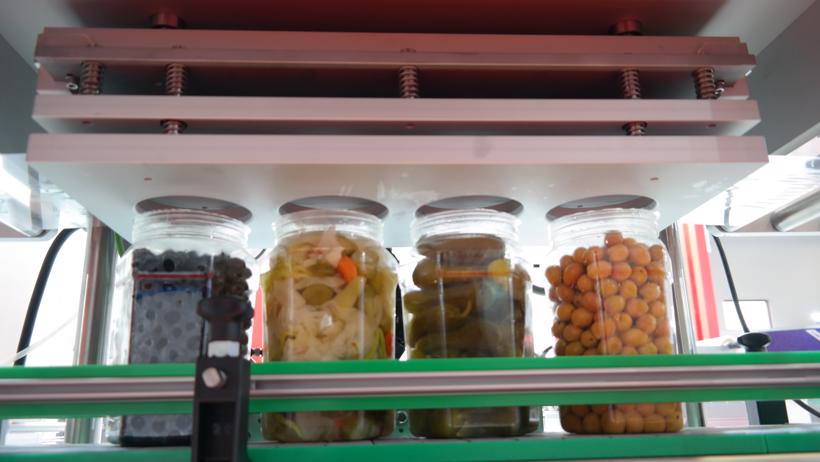 autoSEAL-JS230 TECHNICAL SPECIFICATIONS
POWER
400V, 50-60Hz, 3/N/PE
POWER CONSUMPTION
6kW maximum
COMPRESSED AIR
6 Bar Homogeneous - Dry Air
COMPRESSED AIR CAPACITY
40Nl/cycle
CAPACITY
5-7 cycle/min
CONTROL SYSTEM
Omron 7" Touch Screen PLC (Programmable Logic Control)
DIMENSIONS
850x1800x1750 mm
WEIGHT
400 kg
FILM WIDTH
230 mm.
FILM HUB DIAMETER
76 mm.